You have just added the following item to your shopping bag:

You have just saved the following items for later:

Close
Editor's Note
A complete hair coloring kit for glossy chestnut brown hair right inside the privacy of your own bathroom. The soft foaming solution, evenly coats hair with color for uniformly glossy tresses. Carefully selected ingredients of Amino Acids and Loyol Jelly nurture hair during the coloring process to prevent hair breakage or dryness. Hair becomes softer and healthier, having none of the dullness usually associated with color treated hair. Strictly follow the given instructions for optimum results. By Kao.
Special Deals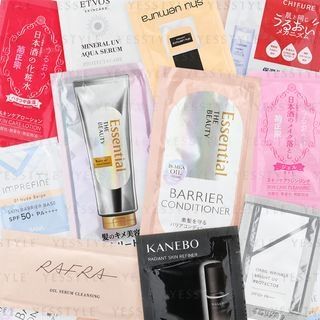 Free Beauty sample
Get a free beauty sample with any
Beauty purchase
worth US$59 and up. Buy more, get more!
Sample is randomly selected and subject to availability.
See all special offers at YesStyle.com
Additional Product Information and Images
Massage foam into hair, and it transforms into thick, creamy foam!
Even difficult to reach areas like the hair at the back of the head and the inner layers will be colored evenly and beautifully.
Makes hair coloring fun!
Honey (Moisturizing Ingredient) - Hair feels smooth when fingers comb through.
Hydrolyzed Silk (Hair Protecting Ingredient) - Gives hair a shiny and moisturized finish.
This product should not be used to lighten hair that has been dyed black by hair color or hair manicure.
Using on hair that is strongly bleached or damaged may cause color results to vary or color to fade more quickly.
One box is enough to color shoulder length hair.
Two boxes may be needed for thicker and longer hair.
Not for use on gray or white hair.
This kit contains: Solution 1, Solution 2 (Developer), Hair Treatment, Foamer Cap, 1 pair of Gloves and Instruction Sheet.
How to Use:
Read the enclosed instructions (in English and Chinese) carefully before using and use as directed.
Perform a skin allergy test two days (48 hours) before each use of the product.
Pack Size - 1 set