You have just added the following item to your shopping bag:

You have just saved the following items for later:

Close
Editor's Note
Skin-whitening treatment steeps skin in Vitamin C to inhibit melanin formation and prevent the occurrence of dark spots. Adhesive collagen then lifts up old keratin, allowing it to be easily exfoliated for a more even complexion with renewed radiance. For targeted treatment, use the Direct Head to apply essence cream directly to the problem area.
Special Deals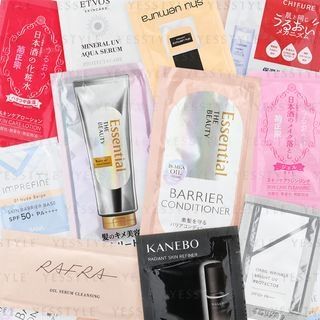 Free Beauty sample
Get a free beauty sample with any
Beauty purchase
worth US$59 and up. Buy more, get more!
Sample is randomly selected and subject to availability.
See all special offers at YesStyle.com
About Kanebo
Extremely popular in its native Japan, Kanebo carries a wide variety of skincare and beauty lines available in over 49 countries. Lines range from local department store and drugstore beauty brands like Lunasol, Kate and RMK, to up-market brands like Sensai. Its luxury beauty lines are also sold at specialist cosmetic outlets, after personal consultations, to ensure the right Kanebo product suits the customer's needs. By building a wide variety of cosmetic and skincare lines after meticulous research all over the world, Kanebo continues to espouse its "feel your beauty" philosophy, developing brands and products that emphasize every woman's individual beauty.
Learn more about Kanebo
Collapse
Additional Product Information and Images
An essence-like cream that moisturizes without leaving your skin sticky.
You can use your fingertips or palms to apply over your entire face
Or use the Direct Head to apply it right from the tube to specific problem areas for intensive partial treatment.
Penetrating vitamin C inhibits the formation of melanin to prevent dark spots while adhesive collagen moisturizes, softens and lifts up old keratin containing melanin, the cause of spots.
Pack Size - 30g