You have just added the following item to your shopping bag:

You have just saved the following items for later:

Close
Size Information:
Original Size: Women - Taiwan (
Size Chart
)
One Size Top: Shoulder:26 inch Sleeve Length:14.5 inch Bust:50 inch Waist:46 inch Total Length: 22 inch Cuff:12 inch Bottom:24 inch Tank top: Shoulder:10.5 inch Bust:30 inch Waist:28 inch Total Length:29 inch Cuff:15 inch Bottom:16 inch
"One Size" measurements may be different depending on brand. Please refer to the product measurements to confirm if this "One Size" product fits you.
There may be a 1cm - 2cm variance in product size depending on how your personal measurements are obtained. (Why)
Material & Care Information
Material:
Cotton Poly Mix+Knit
Color:
Cocoa,Purple,Almond
Wash care:
Machine Wash with Laundry Bag, Dry Cleaning, Handwash, Inside out
More Information
Catalog No.:
1032290588
Special Deals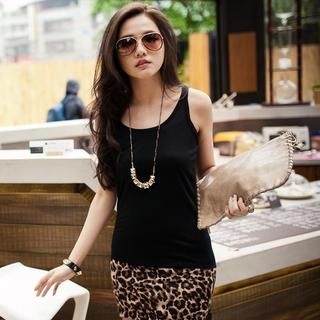 Get a free tank top
Buy any 3 items from this brand and get a
free tank top
.
Free gift subject to availability.
See all special offers at YesStyle.com
About PUFII
Taiwanese brand Pufii resonates the sunny, relaxed spirit of young women with their collection of casual separates. Combined, the coordinates create coveted and comfortable daytime looks. Pufii was established in 2003 and was formerly called PUFFY.
Learn more about PUFII
Collapse
Additional Product Information and Images