You have just added the following item to your shopping bag:

You have just saved the following items for later:

Close
Editor's Note
Highly absorbent blotting paper sops up excess oil without disturbing or rubbing off makeup to keep skin perfectly matte and your makeup looking fresh. Lovely cloth covered holder comes with a mirror for discreet touch-ups anywhere you might be. Handy and portable design makes it easy to tuck blotting paper inside your purse. Refill sheets available.
Special Deals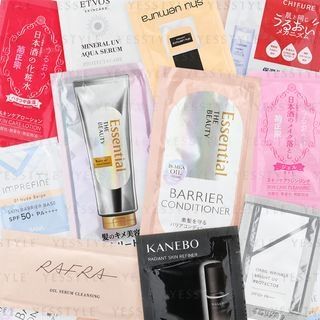 Free Beauty sample
Get a free beauty sample with any
Beauty purchase
worth US$59 and up. Buy more, get more!
Sample is randomly selected and subject to availability.
See all special offers at YesStyle.com
About Jill Stuart
New York-based designer Jill Stuart launched her eponymous line in 1993 and the fashion world instantly embraced her feminine and frilly collection. A decade later, she released her luxurious line of cosmetics in Japan, Taiwan and Hong Kong with enthusiastic results and quickly garnered a cult following. Jill applies the same charming appeal of her clothing line to her range of cosmetics: a crowned jewel adorns each item while sweet colors like peachy pinks and aquatic blues fill the elegant princess packaging. Her best-selling Jelly Eye Color remains highly coveted with its range of ethereal hues in a creamy texture. Jill Stuart's beauty line not only highlights a woman's best features but also completes her vanity table collection.
Learn more about Jill Stuart
Collapse
Additional Product Information and Images
Blotting Paper
Pack Size - 70 sheets