Life Threads Gold Eau De Parfum Spray
You have just added the following item to your shopping bag:

You have just saved the following items for later:

Close
Editor's Note
A seductive spicy floral bedecked in notes of sun-warmed plum and tangerine, blended with lush spices and myrrh. A full and rich fragrance, it easily evokes adventure and success, the perfect fragrance to wear on those days when you feel absolutely unstoppable and worth your weight in gold. Also comes in Silver and Platinum.
Special Deals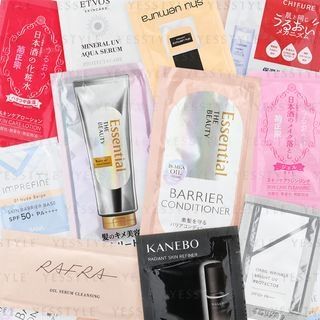 Free Beauty sample
Get a free beauty sample with any
Beauty purchase
worth US$59 and up. Buy more, get more!
Sample is randomly selected and subject to availability.
See all special offers at YesStyle.com
About La Prairie
La Prairie traces its heritage to the famed Clinic La Prairie in Montreux, Switzerland. For the past half century, Clinic La Prairie has attracted thousands of visitors from around the world with its anti-aging cellular therapy. In 1982, La Prairie introduced the exclusive Swiss treatment experience to the public, creating the finest age-defying skincare line. La Prairie's special formulas are acclaimed for their effectiveness in slowing down the signs of aging and revitalizing the skin.
Learn more about La Prairie
Collapse
Additional Product Information and Images
Appears as a new range of luxurious perfumes with 2 other versions: Silver and Platinum
Inspired and created to reflect bountiful lives of women
Captures different moods and feelings throughout their lifetime
Gold is a complex oriental-spicy fragrance
Opens with notes of tangerine, plum and clove
Heart notes are pepper, cinnamon peel, coriander, Kyoto rose, lily of the valley and ylang ylang
Dry down to notes of cedar, patchouli, golden myrrh, vanilla and incense
Pack Size - 50ml/1.7oz