You have just added the following item to your shopping bag:

You have just saved the following items for later:

Close
Editor's Note
A vibrantly hued eye shadow comes in a milky gel texture to lavish eyes with perfect color and a shimmering finish. Nourishing ingredients keep eyelids moisturized, allowing the color to evenly glide over skin. Waterproof and sweat-proof formulation prevents disappearing color and unsightly smudges. Available in several vivid colors to suit your every makeup mood.
Special Deals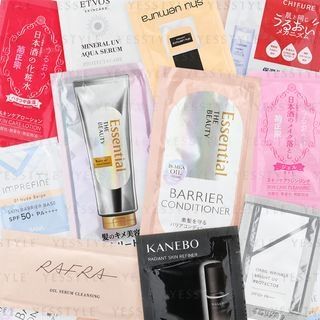 Free Beauty sample
Get a free beauty sample with any
Beauty purchase
worth US$59 and up. Buy more, get more!
Sample is randomly selected and subject to availability.
See all special offers at YesStyle.com
About Canmake
Since its creation by IDA Laboratories in 1985, Japanese brand Canmake developed a wide range of makeup products with fresh and vibrant colors that live up to its "girly, pop and shiny" slogan. Using beautifying and moisturizing agents, Canmake's skin and lipcare series protect and boost your skin for a smashing true nude look. Delighting fashion-conscious teenage girls and trendy executives, Canmake also enjoys the endorsement of professional makeup artists who value quality cosmetics.
Learn more about Canmake
Collapse
Additional Product Information and Images
Canmake Shimmer Jelly Eyes
Color - #03