You have just added the following item to your shopping bag:

You have just saved the following items for later:

Close
Editor's Note
Mix and match eyeliner defines and highlights eyes. Matte gel liner gives eyes a soft and velvety look, while the crystal pearl gel liner creates a glistening effect with a gorgeous pearly sheen. Used alone or together, the eyeliners produce different effects and textures that expertly play up eyes. Eyeliner brush included for ease of use and precise application every single time.
Special Deals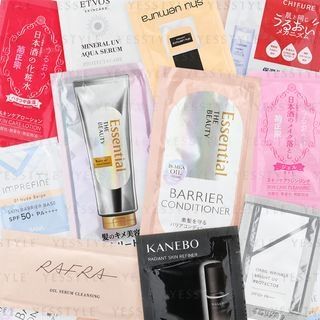 Free Beauty sample
Get a free beauty sample with any
Beauty purchase
worth US$59 and up. Buy more, get more!
Sample is randomly selected and subject to availability.
See all special offers at YesStyle.com
About Laneige
Inspired by the immaculate beauty and purity of snow, Laneige's skincare line combines modern technology and high-quality ingredients to reveal clear, youthful beauty. Deriving its name from the French word for "snow", Laneige bases its philosophy on the unique relationship between snow and water, one element being reborn from the other over and over. Using pure glacial water flowing from the Himalayas as its key ingredient, Laneige's products protects skin cells, maintains balance, and strengthens immunity.
Learn more about Laneige
Collapse
Additional Product Information and Images
Mix and match effect giving highlighted definition on your eye lines.
Water proof gel liner and powder coating liner can give different colors and textures.
Gel-liner expression: Giving defines and bigger looking eyes.
Gel + matte coating powder: Softly glowing eyes with a coating effect.
Gel + crystal pearl coating powder: Brightly glittering eyes with sparkling pearl touch.
For the best application, use the enclosed eyeliner brush.
Pack Size - 6g