You have just added the following item to your shopping bag:

You have just saved the following items for later:

Close
Editor's Note
Dress up eyes in lovely lilacs and neutrals with this stunning eyeshadow palette. The highly pigmented colors glide on lids to deftly bring out and highlight the eyes. Beautifully embossed with the signature Anna Sui rose, the palette also doubles as a handheld mirror reminiscent of old Hollywood glamour and elegance. A striking addition to any makeup collection and for all Ann Sui fans.
Special Deals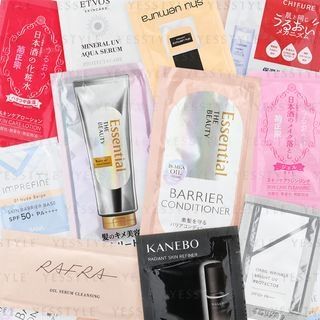 Free Beauty sample
Get a free beauty sample with any
Beauty purchase
worth US$59 and up. Buy more, get more!
Sample is randomly selected and subject to availability.
See all special offers at YesStyle.com
About Anna Sui
The carefree and creative Anna Sui developed her passion for fashion at a young age - as a child, she would dress her dolls and pretend they were at the Oscars. Sui opened her first purple boutique decorated with flea market furniture and Dolly Head mannequins in New York's SoHo district at the tender age of 28. In 1999, Sui launched her signature fragrance and cosmetics line. All her fragrances and colorful cosmetics take the spirit of her collection to a new form, reflecting both her whimsical sensibilities and her high-fashion lifestyle. Today, Anna Sui has 381 boutiques in twelve countries and her collection is sold in over 50 countries.
Learn more about Anna Sui
Collapse
Additional Product Information and Images