You have just added the following item to your shopping bag:

You have just saved the following items for later:

Close
Editor's Note
Fiber-rich mascara pumps up lash volume, filling in gaps with glossy black fiber and extending lash length, for fuller, plumper-looking lashes. Screw type applicator brush allows for a generous, yet even, application of mascara from root to tips. Fiber-infused formula will not weigh down lashesinstead letting them maintain their curl all day long. Waterproof and sweat-proof formula prevents unsightly smearing and flaking.
Special Deals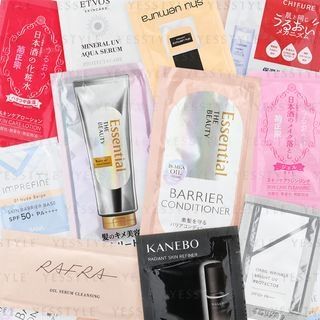 Free Beauty sample
Get a free beauty sample with any
Beauty purchase
worth US$59 and up. Buy more, get more!
Sample is randomly selected and subject to availability.
See all special offers at YesStyle.com
About Shiseido
Founded in 1872, Shiseido started out as a Western-style pharmacy in Ginza, Japan's famous culture and fashion hub. In 1897, Shiseido introduced Eudermine, an advanced lotion still sold today, marking the shift from pharmaceuticals to cosmetics. With its pioneering spirit and Eastern aesthetics, Shiseido offers a full range of prestigious skincare items, makeup, fragrances, and beauty accessories. Today, Shiseido is the fourth largest cosmetics company in the world, and its beauty products are sold in over 60 countries.
Learn more about Shiseido
Collapse
Additional Product Information and Images
It has more dark fiber which gives a long-lasting water-proof and oil-proof function.
Leaving the eyelashes gorgeously dark and extended, creating an abundant and charm eyelash.
You need not worry about mess and smudge.
Adding more long dark fibers, further enhancing the abundance of eyelashes amount.
The waterproof formula is sweat-proof, sebum-proof and tears-proof for a long time.
Maintaining curling and gorgeous eyelashes.
Containing vitamin E derivatives and Macadamia Nut Oil.
It repairs the eyelashes and repairs the cuticles and enhances the eyelashes flexibility.
We have used our best efforts to accurately display the colors of the products.
However the actual color you see will depend on your monitor and may not be accurate.
How to Use:
Comb eyelashes with eyelash brush.
Curl up eyelashes with lash curler.
Take out the mascara brush.
Brush your eyelashes outwards and horizontally.
Brush the outer side of eyelashes first then the inner side for curly eyelashes.
Apply the second layer if necessary.
Reapply after the previous layer dries.
Tidy up with eyelash brush.
Pack Size - 6g