You have just added the following item to your shopping bag:

You have just saved the following items for later:

Close
Special Deals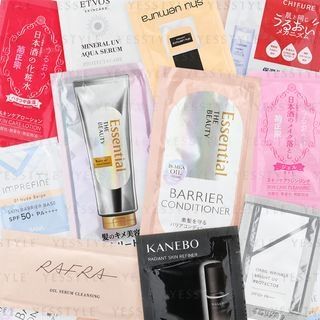 Free Beauty sample
Get a free beauty sample with any
Beauty purchase
worth US$59 and up. Buy more, get more!
Sample is randomly selected and subject to availability.
See all special offers at YesStyle.com
About Skinfood
"Feed your skin, it deserves a treat" is SkinFood's basic philosophy. From its beginnings in South Korea, the company currently maintains 150 retail outlets all over Asia as well as branches in the United Arab Emirates. SkinFood creates delicious cosmetics from familiar ingredients such as sugar, rice, vegetables and fruits. From yummy strawberries to crunchy apples, refreshing aloe vera and invigorating coffee, SkinFood offers over 900 products that pamper, protect and please your skin.
Learn more about Skinfood
Collapse
Additional Product Information and Images
This nail polish contains Vitamin & keratin
Advanced formula colours and covers in one quick, mistake-proof stroke
Nail is excluded
Pack Size - 13ml