You have just added the following item to your shopping bag:

You have just saved the following items for later:

Close
Special Deals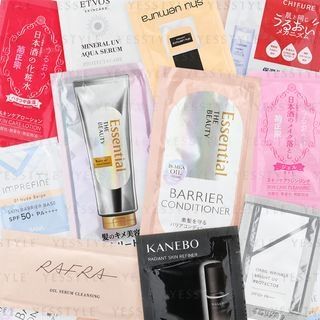 Free Beauty sample
Get a free beauty sample with any
Beauty purchase
worth US$59 and up. Buy more, get more!
Sample is randomly selected and subject to availability.
See all special offers at YesStyle.com
About DHC
The discovery of the beauty benefits found in Spanish olives transformed the Japanese company Daikagu Honyaku Center (DHC) into a global skincare empire. Upholding the Japanese philosophy that science and nature should work harmoniously together, DHC ensures that only natural ingredients without irritating or coloring agents are used in their products. Their best-selling purified olive oil dissolves dirt and makeup effortlessly, simply and effectively. Specializing in Asian botanicals and their signature virgin olive oil, the DHC line helps to retain moisture in the skin without clogging pores. DHC believes that natural beauty can only be achieved by bringing balance to your skin.
Learn more about DHC
Collapse
Additional Product Information and Images
Rose Beauty Q10 Shimmer Powder (Beige)
Natural Bulgaria essence relief the romantic aroma
A multi-function powder enriched with age-defying coenzyme Q10
Helps even out skin tone and brings out a non-greasy texture
Leaves your complexion looking smooth
Pack Size - 12g