You have just added the following item to your shopping bag:

You have just saved the following items for later:

Close
Special Deals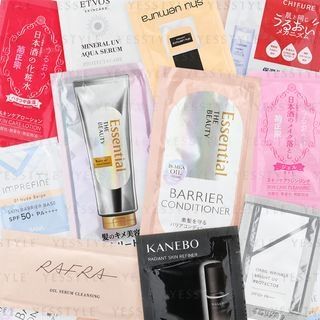 Free Beauty sample
Get a free beauty sample with any
Beauty purchase
worth US$59 and up. Buy more, get more!
Sample is randomly selected and subject to availability.
See all special offers at YesStyle.com
About Clinique
Launched in 1968, Clinique soon became one of the world's most celebrated skincare and makeup brands, famous for its 100% fragrance-free, allergy-tested guarantee. Under the guidance of its leading dermatologists, Clinique's mission is to specifically address different skin types ranging from sensitive and oily to normal and combination. Clinique formulated a signature 3-Step Skin Care System: cleanse, exfoliate, and moisturize. The philosophy behind this system is maintaining hygiene and cleanliness as the foundation for skincare.
Learn more about Clinique
Collapse
Additional Product Information and Images
Rapidly hydration in a refreshing oil-free facial mask.
Pre-moistened full-face sheet replenishes thirsty skin, restoring moisture equilibrium.
With special aloe-activated water, instantly soothes.
Leave skin feeling soft, smooth, intensely hydrated.
Plumps up fine dry lines.
For all skin types.
How to Use:
Unfold mask and apply to clean skin.
Rest for 10 minutes, then remove and discard.
Massage residual treatment into skin.
Use 1-2 times a week for an instantly moisturizing, highly pampering experience.
Pack Size - 6 sheets