You have just added the following item to your shopping bag:

You have just saved the following items for later:

Close
Special Deals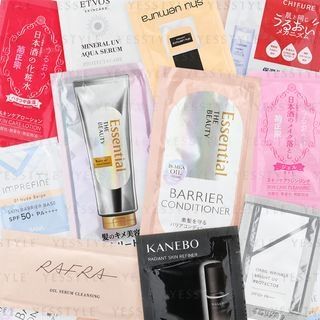 Free Beauty sample
Get a free beauty sample with any
Beauty purchase
worth US$59 and up. Buy more, get more!
Sample is randomly selected and subject to availability.
See all special offers at YesStyle.com
About Chanel
"Fashion passes, style remains" - Coco Chanel knew well that style comes not only from apparel, but also from spirit and attitude. In 1922, Chanel introduced Chanel No.5, a fragrance that reflected her personality. It still remains the world's best-selling perfume. She also introduced her personal shade of vibrant red lipstick, Rouge de Chanel, to the public, sparking a sensation among women who previously dared not wear such a bold color. Today, CHANEL offers apparel, accessories, fragrance, makeup, and skincare products that give people freedom to feel and look their best.
Learn more about Chanel
Collapse
Additional Product Information and Images
With floral and green notes of Neroli from Grasse and Galbanum from Iran
Combines with May Roses and Irises from Florence
A cypress tone with a subtle and woody note of Vetiver
Pack Sizes Available - 50ml/1.7oz, 100ml/3.3oz
Pack Size - 100ml/3.3oz